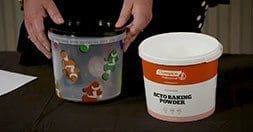 During the in-mould labelling process, you're integrating the label into the packaging itself.
So, you are not only opting for a more efficient and economical process, but your product has a neat, polished finish.
In today's overcrowded markets, this gives your products a definite edge in the retail space.
What is IML or In-Mould Labelling?
In a nutshell, in-mould labelling is a process where the pre-printed label that you've designed is integrated into a product's packaging while the package is being made.
This way, the label and the packaging become inseparable and present as one smooth, continuous surface.
Not only is this easier on the eye but it lasts much longer. With no edges that peel off that make the pack look scruffy, this packaging looks neater and newer on a shelf in the supermarket.
Thanks to these advantages, in-mould labelling has become a preferred process in several sectors including health, food packaging and pharmacological products.
There are different techniques that can be adopted for IML.
The blow moulding technique was popular initially but there have been marked advancements in injection moulding and thermoforming techniques.
Which has increased the efficiency of the process.
It is predicted that injection moulded IML techniques will be the fastest growing labelling technology from present to 2020.
How does IML work? Where is it used?
In-mould labelling is done by a meticulous, automated process so that the labels are integrated into the package very precisely.
The decorative label is very thin (even as little as 50 µm) and is placed in the mould along with the material being used for the package.
By the end of the process, the label and moulded package become one neat unit with a continuous surface.
It can be used for containers of all shapes and sizes. You may have noticed them already on industrial pails and food packaging.
With this process, the same base material is used for both the container and the labelling.
This enhances the recyclable properties of the product because consumers can recycle the entire package as one container.
In-mould labelling for the food sector
In an overcrowded market, brand and design are leading factors that set your products apart from the competition.
Therefore, asymmetrically shaped packaging and uniquely geometric tubs for yogurt or dips often draw the consumer's eye.
Achieving a polished, well-designed finish especially with distinctively shaped packaging like these tubs can be difficult with the traditional, self-adhesive labelling process.
Whereas in-mould labelling gives you a consistent, good-quality finish with packages of any shape and size.
Often, well-designed packaging and precise labelling is linked to quality products and can make an impact on the consumer's buying decision.
The benefits of using in-mould labelling
1. It's efficient and economical
This process rolls the labelling and the package production into one efficient step which makes it economical as well.
By eliminating an extra step, you can also skip the logistics required for intermediate storage.
In the long run, this process saves resources and effort because the decoration of packages can be brought in-house instead of being outsourced.
2. It's a precise process
The process is also automated which allows things to go much faster.
It is controlled using a camera system to ensure precision, so you get a tidy, well-finished product at the end.
The automated process allows exact work without any slips or poorly placed labelling.
3. It offers premium end products
The finished product is characterised by good resolution pictures and the entire package can be covered by a single label in single smooth stretch.
These labels are abrasion, scratch and wrinkle resistant so the information that is listed on the label is always clear and legible.
The labels can also withstand cracks, major changes in temperature and moisture.
They look presentable even if they've been sitting in a warehouse or on a shelf for a long time.
Consumers are now looking more closely at the products that they buy.
Having the necessary information clearly visible on the label is important during those few seconds that a customer picks up your product.
4. It enhances durability
The label takes the form of the moulded container and is also able to extend over the sides.
Depending on the structure of the decorative foil, some labels of a large area (with multiple layers) can act as barriers and enhance the durability of the package and its contents.
This is beneficial for products like freshly baked goods as it can help extend the shelf life of the contents and reduce waste.
5. It gives you a diverse range of options
You can set your product apart from the rest with unique labelling.
You can also use almost any graphic design you create with virtually no limitation on colours and the images that can be used.
You can choose between glossy and matte finishes.
The process is quite flexible so if you want to change the look of your product and use a new set of labels, it won't cost you a lot to make the shift.
All you must do is change the label design on your IML automation.
Get in touch with us for in-mould labelling solutions
Owned and operated in New Zealand, at IFP Group we focus on giving you functional packaging with design that stands out.
Our speciality is in-mould labelling and with our process we can give you premium packaging that highlights your brand.
If you want to take your packaging and branding to the next level, get in touch with us on +64 9 636 9193 or sales@ifpgroup.co.nz to discuss your options.
You can also visit our office and Showroom in Penrose if you would like a demo of our products.
Feel free to also use our customer support chat service in the bottom right corner of your screen.
Follow us on Facebook and Google My Business for our latest products and NZ Manufacturing updates.
Also read about How IFP Group Can Meet Your Practical and Budget Requirements.
Oops! We could not locate your form.