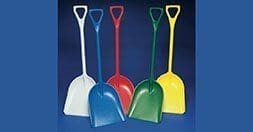 Food-grade heavy duty plastic shovels are designed for just this purpose, and overcome the limitations of conventional shovels.
In any business, it is important to look for tools that can make your processes more efficient.
Being easy to clean, these hygienic shovels are perfect for use in the food processing industry.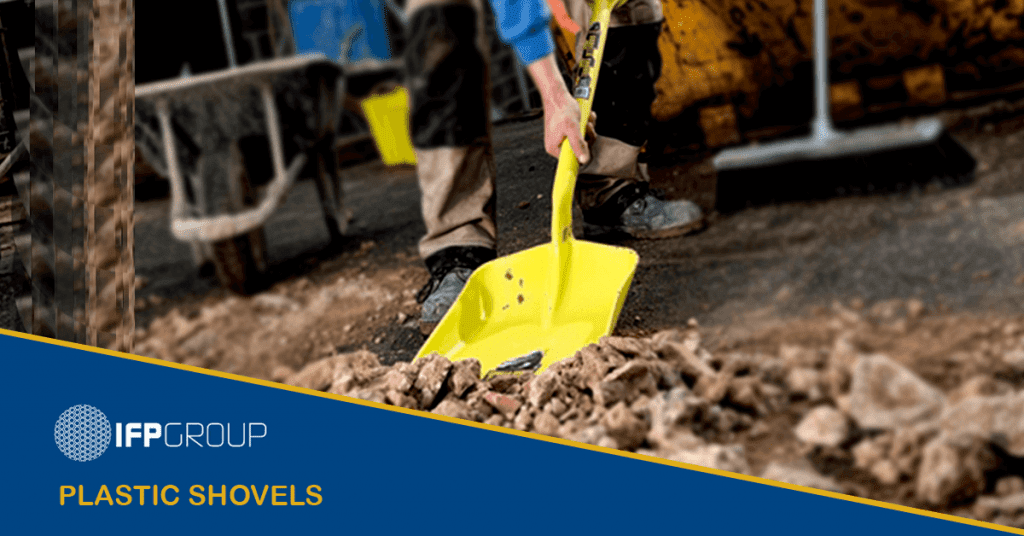 Heavy duty plastic shovels are light and made to prevent strain for the user.
Here are a few reasons to consider switching to tough plastic shovels at your unit:
1. Heavy duty plastic shovels are lightweight and will not rust.
Unlike conventional shovels with metal scoops, plastic shovels are not susceptible to rust.
They are also resistant to most food acids and chemicals.
This is definitely an advantage when they are being used to handle food products and ingredients.
The plastic handles ensure that no splinters harm your employees or contaminate the food.
2. Plastic shovels are highly durable.
Made of very strong polypropylene plastic, each shovel is cast in a single mould.
This means that they don't have any joints and it makes them less likely to have parts that break off.
This also reduces the risk of having weak spots that are prone to damage.
These plastic shovels are crack, shock and spark resistant.
One of IFP's customers, upon being told you could drive a truck over the shovel and it still be in immaculate condition, did exactly that.
And, upon the truck driving over the shovel, he discovered it was still in perfect condition.
3. They are useful in preventing food contamination.
Made of food grade material, plastic shovels are available in a range of food-contact approved colours.
They are coloured differently making it easier to segregate shovels based on their functions or the materials that they are used for.
Assigning shovels of different colours to specific products or ingredients will help prevent cross contamination.
This is very helpful in the agricultural sector and in food processing units.
Especially if your unit handles ingredients that are common allergens such as peanuts.
4. They are ergonomic and designed to reduce back strain.
Plastic shovels are much lighter to use than wooden or metal ones.
Each one weighs only 1.7 kg which makes things easier for your employees as they can do more without expending a lot of energy just handling their equipment.
These shovels are designed to prevent them from straining their backs, especially if your employees need to lift and shovel from the floor level.
The 'D' shaped handle allows for a firmer grip.
Having well-designed, ergonomic equipment is important to increase efficiency.
In this case, the handle reduces the risk of wrist fatigue and the flared blades make scooping materials much easier.
5. They can be used even in colder temperatures.
Working with conventional metal shovels in coolers or freezers with very cold temperatures may not be feasible.
But plastic shovels are resilient and can withstand these temperatures without having their efficiency affected.
Since they are corrosion resistant, they can also be used to handle wet ingredients without risking damage or contamination.
6. They are designed to promote good hygiene.
These plastic shovels are available in a range of colours so you can choose different ones to suit different processes.
These are designed so you can keep them hygienic which is why they are structured in such a way as to minimise germ traps.
They are simple to sanitise before being re-used.
What are the applications of these heavy duty plastic shovels?
Plastic shovels are most often used in businesses related to the food industry.
When food products are being made in bulk, workers often have to handle huge amounts of ingredients.
Using shovels makes work faster and more efficient.
However, in order to meet strict food safety regulations, using clean, hygienic tools is essential.
Plastic shovels are ideal for this purpose because they are easy to keep clean even when being reused over a long period of time.
Plastic shovels are also popular in the commercial fishing industry as well as the poultry, meat and dairy industries.
They have proven to be valuable in certain agricultural processes, particularly those related to harvesting produce and grains.
Plastic shovels are equally useful in handling food waste.
Because plastic shovels are resistant to most chemicals, they have industrial and chemical applications as well.
The solutions to increase efficiency in your business are just a phone call away.
The IFP Group is a New Zealand owned and run business that takes pride in providing your organisation with the best solutions.
They have a comprehensive range of products that help businesses and food processing units of any size operate more efficiently.
Plastic shovels are often chosen over conventional models.
Thanks to their easy handling properties and their resilience.
The advantages that these shovels provide in no way compromises their durability.
In addition to these properties, plastic shovels are designed so you can keep them clean and hygienic.
This makes them perfect for use in the food industry.
These incredibly strong (nearly unbreakable) food-grade plastic shovels are just one example of the IFP Group's product line-up.
With focus on automation and efficiency, their manufacturing business is able to offer you precisely made products that are ideal for your needs.
Contact us today to ask about our food grade plastic shovels.
Enquire Now with IFP Group
For further information about our featured products, get in touch with IFP Group.
Use our online contact form below or call our office on 09 636 9193.
You can also visit our office and Showroom in Penrose if you would like a demo of our products.
Feel free to also use our customer support chat service in the bottom right corner of your screen.
Follow us on Facebook and Google My Business for our latest products and NZ Manufacturing updates.
Also read about How IFP Group Can Meet Your Practical and Budget Requirements.
Oops! We could not locate your form.