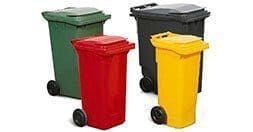 Wheelie bins for waste management can be used as part of your food processing equipment.
Here at IFP Group, we supply a wide range of wheelie bin sizes from an 80 litres wheelie bin to a 1,100 litres wheelie bin.
Made to be highly durable, wheelie bins can safely store a very wide range of materials.
They are popular in several industries including the food processing industry because they are easy to maintain and use, are mobile and can hold large volumes.
Wheelie bins are versatile. While we know they are great for waste management, they also act as storage containers as part of your wider food processing equipment.
You can choose the size and capacity you need. You can find wheelie bins with the capacity that works well for your needs.
Talk to our sales consultants when you require an 80 litre wheelie bin, a 660 litre wheelie bin or even one with a 1,100 litre bin capacity.
All our wheelie bin products offer a range of uses and benefits.
IFP Group located in Penrose, Auckland have what you need for waste management.
1. Waste management bins are easy to move.
Wheelie bins are easy to move around thanks to their excellent design.
With two or more strong wheels fixed at the base, all you must do is push to move it to where it's supposed to be.
Even if the bin is at full capacity, it will glide along easily so your employees don't have to strain to move it from one station to the next.
They also eliminate the need to shift materials onto a trolley just to move them, saving time and effort.
2. IFP Group wheelie bin are made for all weather conditions.
Wheelie bins are made of High-Density Polyethylene (HDPE) material.
This has what is known as a high strength to density ratio.
This material ensures that wheelie bins are highly durable and corrosion resistant.
This means they can weather the elements better than most other storage solutions.
Our wheelie bins are also UV light stabilised which strengthens their ability to withstand the outdoors.
3. They are cleverly designed.
Wheelie bins were made to be easy to use.
They have sturdy wheels for easy movement and the four wheeled bins have a lever to brake when necessary.
The lever is foot operated for convenience.
For wheelie bins with higher (660 litres and 1,100 litre) capacity, are fitted with additional wheels to support the weight.
The flip lids are designed to withstand the wear and tear of everyday use.
4. They are long lasting and durable.
As these are made of highly durable HDPE material, they are capable of lasting for many years.
They bypass any common problems faced by metal storage bins like corrosion and can withstand extreme temperatures much better.
For additional strength, some wheelie bin designs feature a honeycomb under lip which makes the lip area much more resistant to breakage.
5. They can be reused for many years.
Wheelie bins can be used and reused for years; this saves you the cost of buying new storage solutions regularly.
And when you want to replace them, after they've been used for years, they can be recycled.
This will reduce the impact you have on the environment. HDPE is a material that is commonly recycled.
6. They are easy to maintain.
Wheelie storage bins are specifically designed to be easy to maintain.
They have smooth sides, so materials don't get caught in any grooves or crevices.
This also makes it much easier to clean which is why they are often included as food processing equipment.
7. Applications of wheelie bins.
Thanks to the wide variety of designs available and their ease of use, wheelie bins can be utilised to store practically any material.
Being available in a range of colours makes them easy to match to a colour coded system in order to prevent cross contamination of materials.
Choose from 80 litres wheelie bins in red, blue, yellow or green wheelie bin lids to separate your ingredients.
Our wheelie bin range is also available in solid colours so you can have the base as well as the lid colour coded.
You could even colour-match them to our plastic shovel range to ensure no cross-contamination.
Wheelie bins are very useful in large operations like factories, processing plants and manufacturing plants.
Where they are used to store supplies, grains or other parts crucial to day-to-day operations.
These bins are also commonly used in residential houses to collect waste or recycling.
If you have pets, these bins can be used to safely store dry pet food, especially if you have dogs.
Versatile and well-designed, wheelie bins offer plenty of use beyond just waste storage.
IFP Group puts you first.
Good equipment, quality supplies and hardworking employees are essential for any venture to succeed.
Thanks to their many years of experience in this industry, the experts at IFP Group understand this perfectly.
Therefore, we have built a strong inventory that offers a wide range of products to suit the storage needs of businesses in different industries.
Our wheelie bin designs offer storage solutions for the food processing, food preparation, agriculture, horticulture, logistics and the warehousing industries.
Get in touch with us to discuss your needs and we will help you choose wheelie bin designs that work best for you.
You can also consult us for other storage solutions that could make your establishment more efficient and productive.
Enquire Now with IFP Group
For further information about our featured products, get in touch with IFP Group.
Use our online contact form below or call our office on 09 636 9193.
You can also visit our office and Showroom in Penrose if you would like a demo of our products.
Feel free to also use our customer support chat service in the bottom right corner of your screen.
Follow us on Facebook and Google My Business for our latest products and NZ Manufacturing updates.
Also read about How IFP Group Can Meet Your Practical and Budget Requirements.
Oops! We could not locate your form.