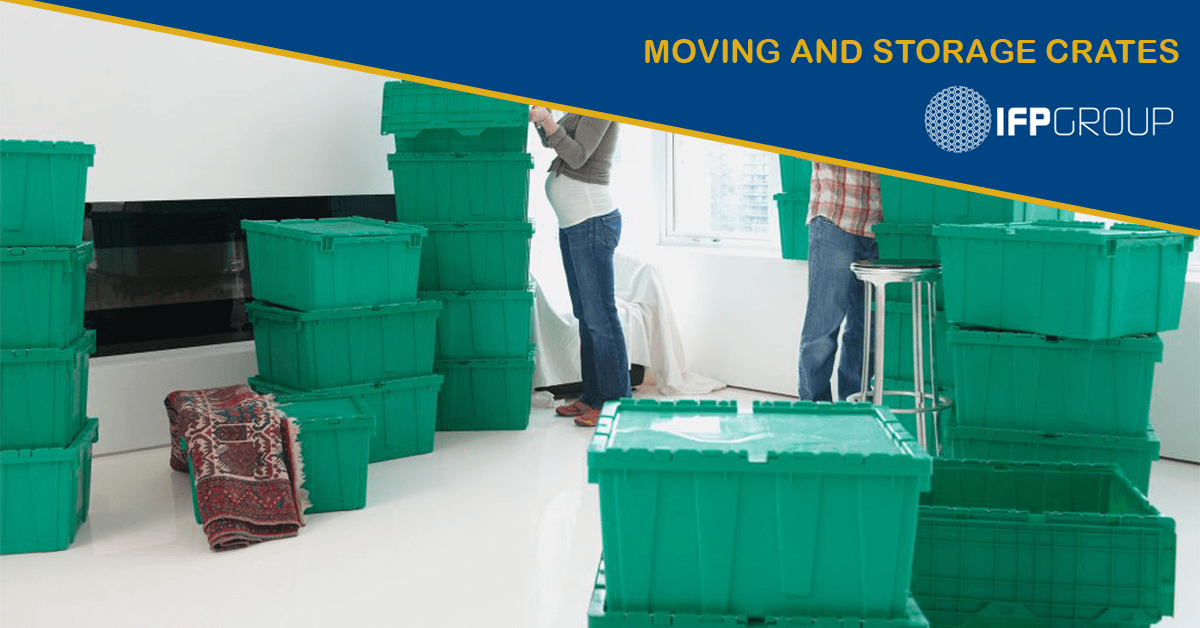 With a great range of solid Plastic security crates and stack and nest bins, IFP Group offer many options for storage, archiving and moving. Contact us now to discuss all our plastic security crates options.
What are security crates and stack and nest bins used for?
There are a huge number of reasons you might need storage crates. Whether they are for long term storage or short term moving, at IFP Group, we have something to suit every budget and every size.
Our security crates and storage containers can be used for almost anything that you need to store or move. From documents and files through to kitchen or medical equipment, there's an answer to your storage problem.
You can use the blue 72 litre crate and 45 litre crates for transporting food in a safe and secure way as they are manufactured from food grade virgin plastic.
For instance, this 68 litre crate has hanging rails and a lockable lid, making it perfect for sensitive documents and financial information.
Why use plastic security crates?
Plastic security crates offer a range of benefits that other storage boxes don't. For instance, plastic storage crates are water, mould and pest resistant. Any leaks from the warehouse roof or time spent in damp corners of storage units won't affect the papers inside.
Also, rats and mice far prefer a nice cardboard box to chew through than trying to navigate through solid plastic.
After the Christchurch earthquake, there were a number of businesses that had problems due to poor storage. Liquefaction damaged all paper records stored in cardboard boxes, quickly rendering them only fit for rubbish.
Also, many piles of records were dislodged, and the cardboard boxes broke easily, making a huge mess which needed a big clean-up. Security crates are rigid and far stronger.
Not only are records kept secure, but if you are storing things, your possessions are far safer.
What options of plastic security crates are there?
From our massive 72 litre bin through to the more manoeuvrable 34 litre crate, we have the right storage solution for you. We recommend the bigger crates for lighter products, as the bigger bins can get very heavy when full of paper and require a two person lift.
The bigger ones are great for storing medical or kitchen equipment. Anything that is bulky or an awkward shape becomes a lot easier to manage when put away tidily in stackable containers.
Loads of benefits for stacking away cleanly
Because these security crates nest when not in use, you can fit 68 units on a standard pallet, which helps to minimise freight and storage. When they are full, they can be tidily stacked on pallets which makes moving them easy, either by hand or forklift.
All our Plastic security crates use 100% recycled plastic
Our Enviro security crates are made from 100% recycled polypropylene. These units ensure that waste product have a long-term use, capturing plastic and ensuring it doesn't go to landfill.
Our blue Rapid Range security crates are also fully recyclable.
Can be stamped with your logo
These crates can also be hot-stamped with your company logo. This makes them easy to see in storage, easy to identify when in transit, and easier for you to keep track of.
Secure with tamper evident snap lock pin
Another feature of our secure stack and nest bins is that they have a tamper evident snap-lock pin. You'll know if anyone has had access to the container. You could also use a cable tie to make tampering obvious.
All our Plastic security crates are sold with attached lids
The lids are on hinges, so unlike your Tupperware drawer, you'll never have missing lids or a pile of extra lids with no matching base.
Label holders to easily identify contents
The ends on the Rapid Rage crates have label holders too, so you can easily see at a glance what is in the crate.
Perfect for moving offices
Our plastic bins fit neatly on skates, so you can easily stack crates and move them on the castors. It makes moving a breeze for all offices. Because you can move hanging files as they are, packing and unpacking is one movement from drawer or shelf to bin, and then back again at the new office.
Labels can be affixed easily and peeled off and relabelled as required. While boxes only last one trip, plastic bins can be reused again and again, making them ideal for moving companies to invest in.
A range of security crates for a huge range of uses
IFP offers a selection of plastic nesting and stacking security crates. We realise not every situation is the same, so we have different crates for different organisations. From moving companies to businesses that want to store their files or assets securely, our security bins are the answer.
The benefits are huge in terms of security, longevity of items in storage, and safety while in transit. If you want to speak to us about buying a bulk lot or getting your security crates labelled with your branding, contact us today on (09) 636 9193 or sales@ifpgroup.co.nz
Oops! We could not locate your form.