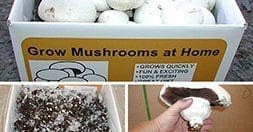 Safe-to-eat mushrooms can be grown by individuals at home or in bulk for growers with ease.
All you need are a few simple products that can easily be procured.
The best containers for mushroom cultivation are our clear plastic pails.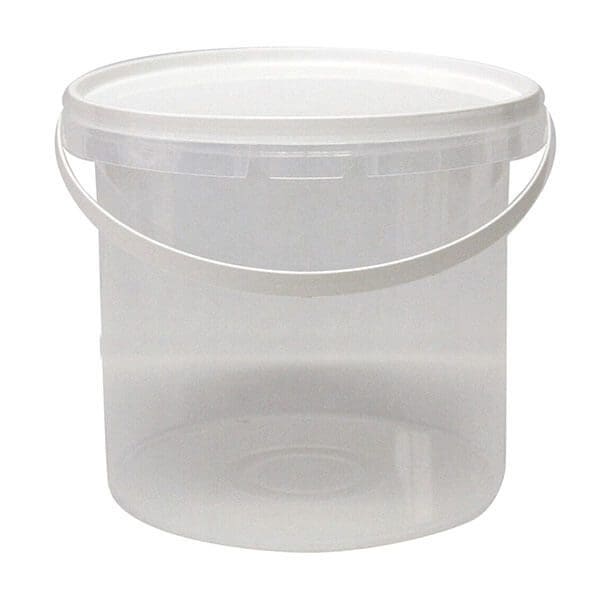 Mushroom growing kits using 2 litre clear food pails.
There are a number of reasons our clear plastic pails are perfect for the job, and why growers around NZ are increasingly turning to these for mushroom cultivation.
They retain humidity.
Mushrooms are not fussy about where they grow. They can thrive in a range of growing media (including coffee grounds and wet sawdust).
They can be grown both indoors and outdoors without a problem.
All they need is the right amount of humidity and a cool growing temperature.
Both of these can be achieved in a plastic pail.
Plastic pails provide the right conditions.
Terracotta and other conventional pots are not good for growing mushrooms as they are porous and can get too hot or cold.
Mushrooms need cool and moist conditions to thrive. Metal containers do not do well in moist or humid conditions, they rust easily.
Conveniently, plastic pails tick all the right boxes so you can grow mushrooms almost anywhere.
Plastic pails can also be closed with a lid which helps you control the conditions within much better.
Plastic pails can be reused.
Plastic is a hardy material that can last for years. Unlike metal, it is weather resistant and can handle varying temperatures.
Once your mushrooms have been harvested and you don't see any new ones growing for about three weeks.
You can safely assume that this batch is done producing. You can then reuse this mushroom kit with new mushroom spawn to start growing a new batch.
Plastic pails are economical.
If you intend to grow large quantities of mushrooms, you will need to buy a large number of containers.
The good news is that these pails are economical to buy. Since they can be reused and are long lasting, you don't have to spend more money to buy new pails for a new batch of mushrooms.
You can track growth.
Choosing a clear plastic pail to grow your mushrooms in will allow you to track the growth of your mushrooms under the soil.
Seeing the roots forming underneath gives you an accurate idea of the health and age of your crop.
Pails are easy to set up.
When you are initially setting up the container, you will need to drill holes in the sides/ base of the pail.
This is much easier with plastic than with other materials as plastic allows you to make the holes without damaging the rest of the pail's structure (make sure you use the right drill bit).
Plastic pails are easy to store.
You can choose the size that works best for you and your space. They are available in a very wide range of sizes from 1 litre.
These can be stored anywhere that's cool and still, indoors or out. The handle makes them easy to just pick up and carry.
So, when harvest time comes around, you can literally take the pail into your kitchen or processing facility.
Food grade pails offer you better control.
It is easy to monitor your mushroom crop through a clear plastic pail. This way, you can adjust the conditions within as required.
If they need more or less heat, you can shift the position of your pail. If they need more moisture, you can use a spray to lightly add water to their environment and then put the lid back on the pail again.
Our clear pails made the perfect mushroom growing kit.
Here at IFP Group, we have so mushroom in our hearts for fungi. When a customer approached us looking for the perfect mushroom-growing conditions, we were pretty sure we had the answer.
These plastic pails turned out to be ideal for growing mushrooms. Made in New Zealand, these are not just used at home by enthusiasts but also by commercial growers.
The clear sides make them easy to monitor growth underground, which you wouldn't usually be able to see.
The lids allow the mushrooms environment to be controlled much easier, resulting in a better crop.
Because the pails can be moved, it is more efficient and an easier way to manage crops, control pests and manipulate the environment to create the best growing conditions.
Contact us on sales@ifpgroup.co.nz to find out about why so many mushroom growing kits are using our pails.
It's an easy, economical solution that creates the best mushroom growing conditions and great outcomes.
Enquire Now with IFP Group
For further information about our featured products, get in touch with IFP Group.
Use our online contact form below or call our office on 09 636 9193.
You can also visit our office and Showroom in Penrose if you would like a demo of our products.
Feel free to also use our customer support chat service in the bottom right corner of your screen.
Follow us on Facebook and Google My Business for our latest products and NZ Manufacturing updates.
Also read about How IFP Group Can Meet Your Practical and Budget Requirements.
[gravityform id="2″ title="true" description="true"]